The EU-China Conference on Agricultural Research was held on 28 February 2023 in Beijing under the motto of "Setting the tone for a renewed partnership and future cooperation". Taking place in hybrid format, the event was organized by the EU Working Group on scientific cooperation in agriculture with China with support from the EU Delegation to China. DCZ expert for China agriculture policy monitoring, Dr. Ahmatjan Rouzi, attended the event on site and contributed as a panelist to the discussions.
In their key note addresses, Mr. Vojko Bratina, S&T Attaché to the EU Delegation to China, and Mr. Xu Jie, Deputy Director General of the Department of International Cooperation at the Ministry of Science and Technology (MOST) of China, laid out the success and importance of EU-China collaboration on agricultural research. The FAB flagship projects on food, agriculture, and biotechnology, with co-financing from EU Horizon programs and MOST, were highlighted as a successful instrument of agricultural research collaboration. Currently, there are eight different projects on eight topics, including mitigation of agricultural greenhouse gas emissions, animal nutrition, and urban agriculture carried out within the FAB funding framework. New proposals for the 2025-27 funding period are under discussion.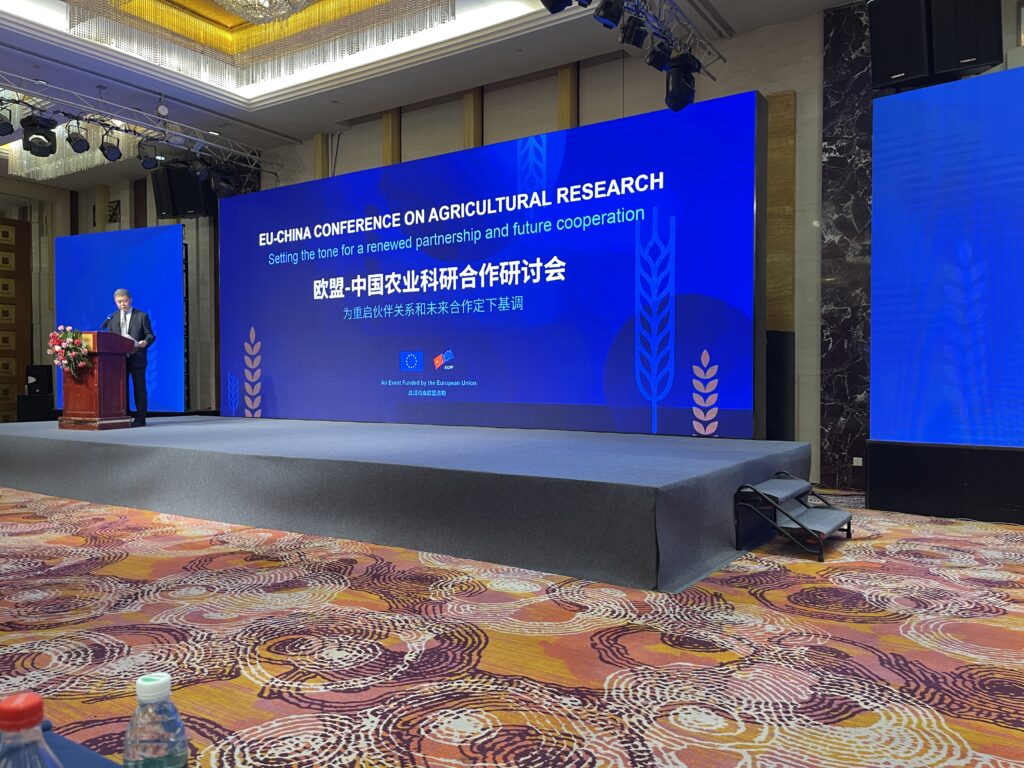 In the following plenary session, four success stories of EU-China agricultural research collaboration were presented, involving, amongst others, the Chinese Academy of Agricultural Sciences (CAAS); the Chinese Academy of Sciences (CAS); the National Research Institute for Agriculture, Food and the Environment (INRAE) of France; the Norwegian Institute of Bioeconomy Research (NIBIO); the Spanish Institute for Sustainable Agriculture (IAS); and the National Research Council of Spain. The research carried out in the four presented collaboration projects was related to biotechnology, agriculture economy, urban farming, sustainable agriculture, and viticulture. 
Afterwards, the event was split into five parallel panel sessions on
Animal nutrition and feed resource efficiency/ animal health
Sustainable farming systems and optimization of manure use along the management chain
Innovation in new bridging technologies, including smart agriculture and new agri-technology of ecological low-carbon and green yield
Food quality and safety
Plant pathology, crop protection, and climate resilience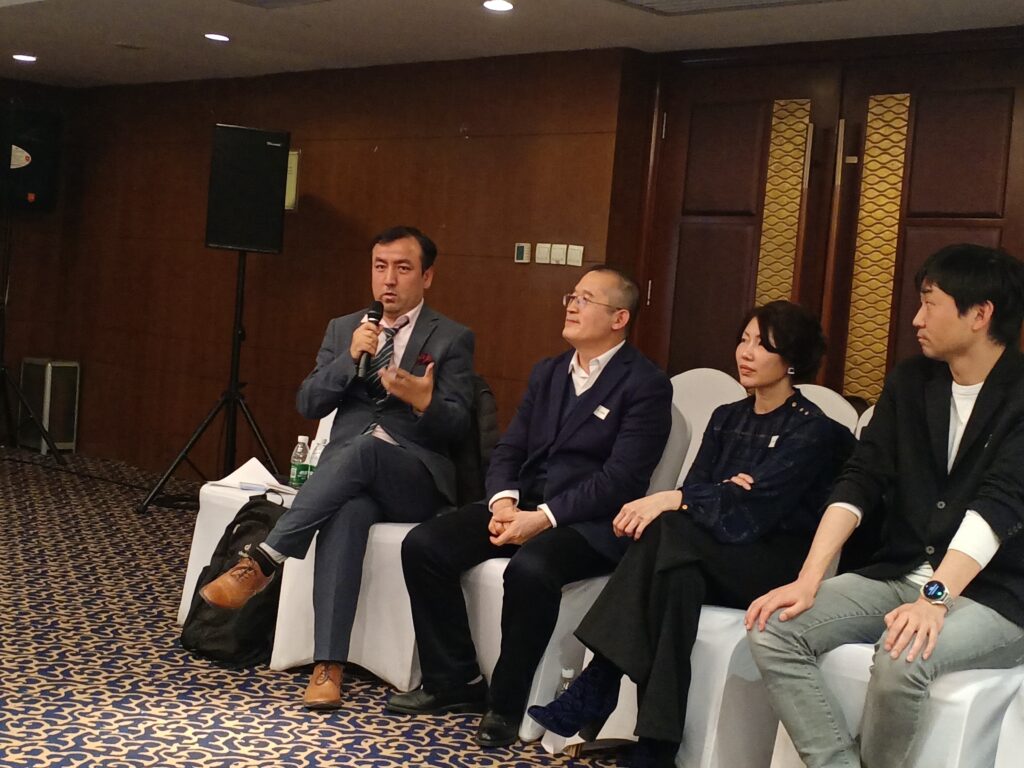 Dr. Dong Hongmin from the Institute of Environment and Sustainable Development of Agriculture at CAAS—a a long-time cooperation partner of the DCZ's Science & Technology Platform—joined the panel on manure utilization and spoke about her collaboration with Germany on this topic. Dr. Ahmatjan Rouzi joined the panel on smart agriculture along with four other experts and introduced DCZ's work in this area as well as the potential for Sino-German cooperation on smart agriculture to address food security, rural development, and climate mitigation issues.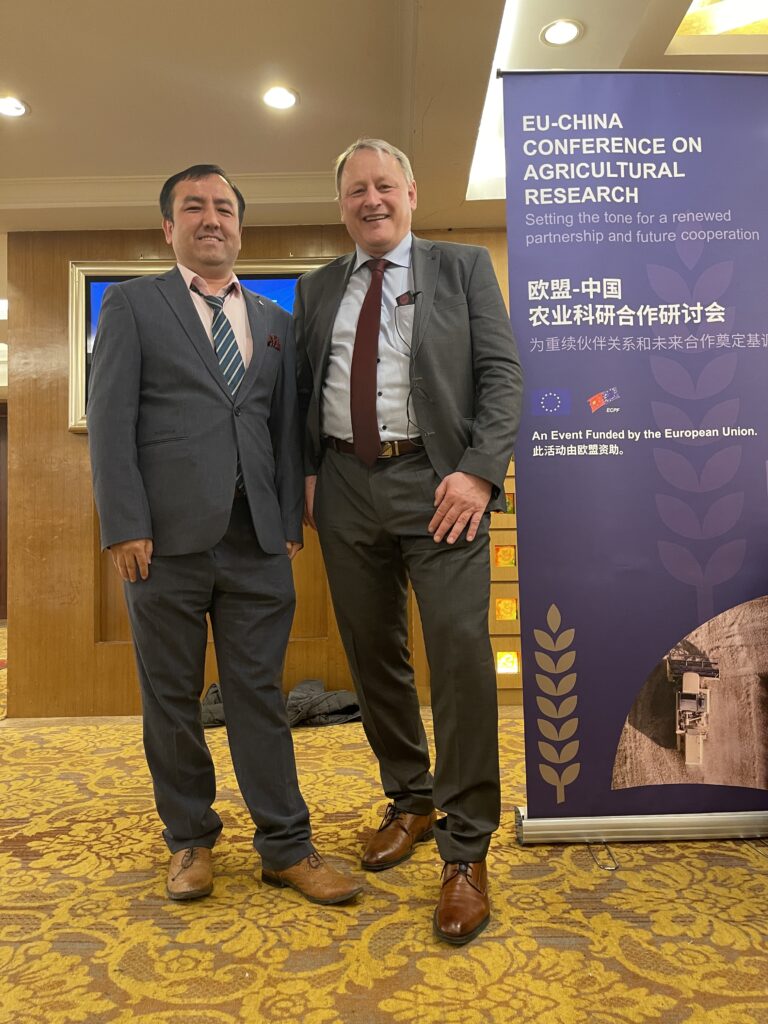 Finally, Mr. Halldor Berg from EURAXESS moderated a plenary panel on EU-China research collaboration in which China-based European researchers shared their experience in working in China and how to succeed in Chinese academia as Europeans.
---