On 3 and 4 August, DCZ expert Michaela Boehme followed an invitation by the Xichong County Organic Agriculture Development Center to learn more about organic agricultural development in the area. Located in the northeast of Sichuan province and under administration of the prefecture-level city of Nanchong, Xichong is known for its early efforts at promoting organic agriculture at the county level. The county is characterized by a hilly topography, relative remoteness from the larger urban centers in Sichuan province, and a predominantly rural economy.
Xichong as demonstration county for organic agriculture
To spur development in the absence of industry, in 2008, the local government turned to organic agriculture. Experts were recruited from various fields, and the Xichong Organic Agriculture Development Center (formerly named Xichong Organic Office) was set up to promote Xichong as a demonstration county for organic agriculture. A series of measures was implemented to help farmers switch to organic production. These include:
Funding for infrastructure, facilities, and equipment, such as natural pest traps, sustainable irrigation systems, etc.
Organic input subsidies to reduce the use of chemical fertilizers and pesticides. For example, by distributing free seeds, the local government encourages farmers to plant cover crops that can be used as "green manure" and improve soil organic matter.
Extension services and trainings to promote circular and sustainable agricultural methods.
Subsidies for organic certification. Local authorities take over the full costs of the initial certification process as well as 80% of the costs for the annual follow-up inspections organic producers must undergo.
Premiums of 100 RMB for every mu of land (0.06 ha) converted to organic farming.
County-wide branding strategy. Through the county's unified regional brand, Hao Chong Shi (好充食), the local government seeks to build linkages with consumers and increase market share for local growers. Xichong organic shops were opened in a number of big cities such as Beijing, Shanghai, Guangzhou, Chengdu and Chongqing, while e-commerce and livestreaming are used to raise the county's profile as a center for organic agricultural production.
After more than a decade of development, organic agriculture has become an important driver of growth in the region. There are some 60 certified organic companies in the county with a total organic farmland area close to 11,000 ha. Overall, the county produces over 100 organically certified products, including grains, oils, fruits, and vegetables. With attractive government incentives available, entrepreneurs and natives have started to return to the countryside to set up a business in the organic farming sector. 
Xichong has also built a reputation as a platform for international exchange on organic agriculture in Asia. Every two years, the county hosts the "Xichong International Organic Innovation Summit" in cooperation with the Asia Office of IFOAM (International Federation of Organic Agricultural Movements). At the same time, the county is home to the Asia Organic Agriculture Technology, Research & Development Center.
Innovative methods for better soil health and pest and weed control
During her stay in Xichong, DCZ representative Michaela Boehme had the opportunity to visit a diverse range of certified organic companies, including a tangerine farm, a pomelo grower, a company making high-end rose teas and rose-based products, as well as an organic rice producing and processing company. The concentration of organic farming in the county means there is less risk of pesticide runoff, drift, and other forms of contamination from conventional agriculture, the DCZ expert learned from conversations with farm managers. The various incentives and support programs, including the county-wide branding strategy, are other key factors that attract organic businesses to invest in the county. 
To meet the strict requirements for organically certified agriculture, many of the farms visited were experimenting with innovative management methods. For example, cover crops were commonly used in fruit orchards as a way to provide green manure and improve soil fertility. For pest control, farmers use mechanical pest traps as well as flower strips along the fields to enhance functional biodiversity and limit the population density of pests. 
According to some farmers we spoke with, weed management is a key challenge limiting productivity. In many farms, weeding is done manually by agricultural laborers recruited from the surrounding villages, adding to the costs of production. In one notable case, a herd of ostriches was kept in the pomelo orchard to assist with weed management by eating and trampling unwanted plants, while naturally fertilizing the soil.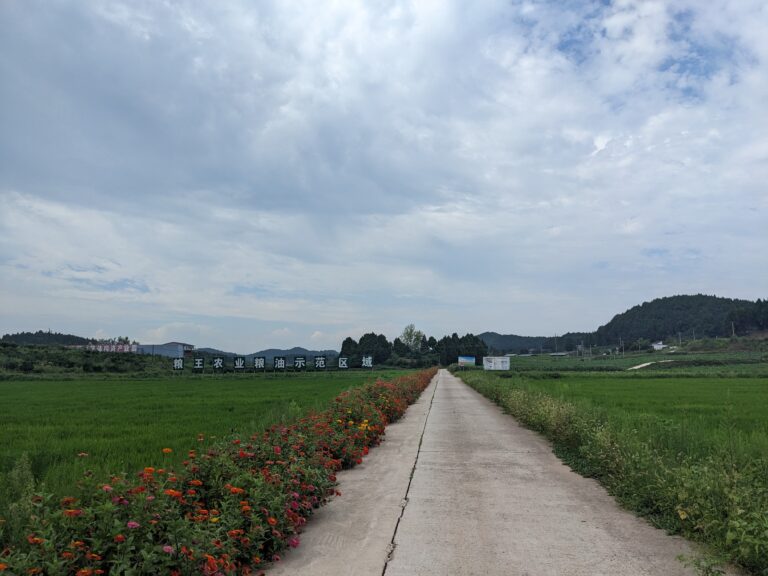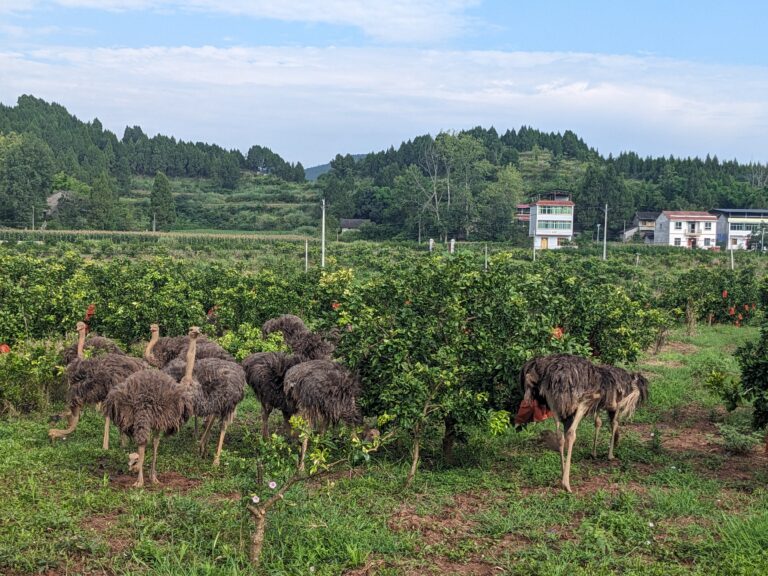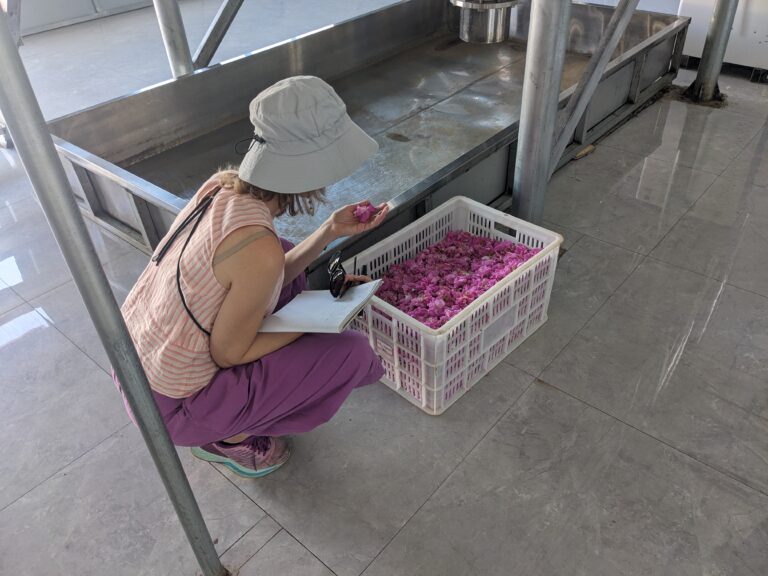 Future prospects and challenges
Xichong County has been widely recognized as a pioneer of rural development through organic agriculture, with local governments from all over China visiting to learn from the county's experiences. But the county's ambitions don't stop here. In the future, Xichong wants to expand its organic farmland area to 33,000 ha, boost agri-tourism, and further expand the agricultural industrial chain into processing of high-end agricultural products.
Yet, many challenges remain. High production costs and high prices (usually triple the price of conventional food) mean that organic food remains niche in China's price-sensitive consumer market. While the government has worked to pool production under a county-wide brand, output levels remain relatively low, limiting the opportunity for Xichong growers to market their produce to national retailers or larger catering chains.
Declining rural populations and lack of rural labor also remain a challenge. As we could observe during our trip, most farm workers appeared to be in their 60s and older, with the younger generation gone to the cities to work in manufacturing and industry. For now, local planners are banking on an improved natural environment and more job opportunities in agri-tourism and the processing industry to reverse the trend.
---