On invitation of the Chinese Ministry of Agriculture and Rural Affairs (MARA) and Yangling High-Tech Demonstration Zone, DCZ expert Eva Sternfeld participated in a high-level conference on soil health in Yangling, Shaanxi province. The Global Soil Forum was held from 19-20 September as a side event on the occasion of the 30th Yangling High-Tech Agriculture Fair.
The Global Soil Forum was attended by 160 delegates from 32 countries including agricultural ministers and embassy spokespeople, private sector representatives, and international as well as non-governmental organizations. In the opening session moderated by MARA Vice Minister MA Youxiang, keynote speaker Shöret Zakir, Vice Chairman of the National People's Congress, stressed the importance of global soil health for food security and introduced the Chinese proposal to build up a global platform on soil health. The platform is intended to promote exchange on scientific and technological knowledge on soil health, establish scientific standards on evaluation of soil health, and strengthen relevant laws that promote public awareness of the importance of soil. 
The second speaker, China's Minister of Agriculture and Rural Affairs TANG Renjian, referred to the global food crisis and the importance of more stringent farmland protection. He also stressed that protection of soil is a global issue as one third of soil is degraded in one or another form. In this context he mentioned China's efforts for soil protection such as the "Law on Black Soil" which was adopted in 2023, as well as the establishment of a nationwide farmland monitoring system and the third national soil survey, which is currently under way. China wants to cooperate with all countries on these topics, he stressed. 
The opening speeches by Chinese policymakers were followed by statements of agricultural ministers from various countries including Murray Watt, Minister of Agriculture, Fisheries and Forestry from Australia; the Columbian Minister of Agriculture and Rural Development Jennifer Mojica Florez; and Djanzbekov Askarek, Minister of Agriculture of the Kyrgyz Republic. In her speech, Rosemary Nokuzola Capa, Deputy Minister of Agriculture, Rural Development and Land Reform of Republic of South Africa, congratulated China for the successful fight against hunger. She also reminded the audience of World Soil Day on 5 December. Tin Htut, Deputy Minister for Agriculture, Livestock and Irrigation of Myanmar reminded the participants of the challenges for soil health such as pollution by overuse of chemical fertilizers. 
The audience also heard statements by scientists and representatives of various international organizations such as FAO, International Union of Soil Sciences, International Center for Biosaline Agriculture, and the Shanghai Cooperation Organization, as well as the Cooperative Research Centre for High Performance Soils. According to LI Lifeng, director of the Land and Water Division of FAO, immediate action is more than urgent. While soil contributes to 13 SDGs, 90% of the world's top soil will be in danger of degradation by 2030 if no action is taken. Therefore, FAO proposes global soil partnerships. According to Li, China could play a crucial role here as a country which, in recent years, has made significant progress in soil rehabilitation and could provide support to other countries. 
ZHANG Jiabao, Academician from the Institute of Soil Science of the Chinese Academy of Sciences (CAS) and Vice President of the International Union of Soil Sciences (IUSS) pointed out that a definition for soil health is urgently needed to assess the biodiversity of soil and its potential productivity. The importance of taking into account the impact of underground and arial biodiversity on soil health was also mentioned by Laura Bertha Reyes-Sanchez, former President of IUSS. Michael Crawford from the Cooperative Research Centre for High Performance Soils elaborated on the climate change impacts on soils such as increased frequency of weather extremes. 
Finally, HAN Jichang, Chairman of the Shaanxi Provincial Land Engineering Construction Group and developer of the Yangling High Tech Agriculture Development Zone, provided an ambitious vision: According to him, there are 80 million hectares in China that are currently fallow and not used for agriculture, of which 20 million hectares could be developed as strategic cropland in the coming years.
Joint declaration on global soil health
The opening session ended with the presentation of a draft version of a joint declaration, the Yangling Initiative of the 2023 Global Forum on Soil Health. The document states:
"We recognize that one third of the world's soils are already degraded due to the combination of natural causes such as climate change and human activities including land use changes. On the one hand, soil degradation undermines crop production, exacerbates climate change, and poses severe challenges to global food security and agricultural sustainability, hindering progress towards the 2030 UN Sustainable Development Goals. On the other hand, agriculture and food systems can be part of the climate solution through large scale adoption of sustainable soil and land management practices aiming at preserving and enhancing carbon storage in soils. We acknowledge that soil health is a global concern and that further international action, cooperation and joint response by all stakeholders and at all levels is required to revert current soil degradation processes and recover healthy soils…"

Yangling Initiative of the 2023 Global Forum on Soil Health
To achieve these goals, the document proposes a range of measures and actions. These include actions to protect and improve black soils, salt affected soils, red soils, paddy soils, and loess.
Academic forum on black soil at Northwest Agriculture and Forestry University
In the afternoon, the current state of knowledge and research questions about the five soil types identified by the Yangling Initiative were discussed in thematic panels. DCZ expert Eva Sternfeld participated in the panel on black soils held at Northwest A&F University, one of the oldest and most prestigious agricultural universities in China. 
Black soil is one of the most fertile but also most fragile soil types. According to the FAO, 17% of the world's arable land is on black earth soils. Black soils are also important carbon sinks. Therefore, as a FAO spokesman explained at the symposium, black soil is fundamental for food security. The FAO is currently developing a Global Black Soil Distribution Map and is working on establishing a Black Soil Network. 
Under natural conditions, it takes almost 400 years to form one centimeter of a black soil humus layer. At the symposium, Chinese researchers expressed their concern that fertility and the proportion of organic matter of black soil are decreasing in northeast China due to over-exploitation and the use of heavy machines that compact the soil and erosion. 
'Black soil is the giant panda of agriculture', Chinese speakers repeatedly quoted President XI Jinping, who used this phrase in numerous speeches to emphasize the need to protect the valuable arable land in northeastern China. Several Chinese speakers such as WANG Huinan, ZHANG Hu (China Agriculture University), and YAO Zhongyun (Soil Institute of the Academy of Science) referred to a model experiment in Lishu County, Jilin Province. Here the degradation of the soil could be successfully stopped through no-tillage, leaving straw in the fields, reducing the use of synthetic fertilizers, and using lighter machines. According to WANG Huinan, erosion was reduced by over 80%. Now the "Lishu model" is being promoted as a model for sustainable soil cultivation in northeast China. WANG Jingkuan from Shenyang Agriculture University highlighted the need to establish definitions and standards for soil quality. Professor YAO Zhongyun highlighted the importance of black soil for carbon sequestration. 
The presentation by Jonathan Adams from the North East Black Soils Institute Harbin dealt with the microbial diversity of black soils. His research team carries out comparative DNA analyses of arable land and natural ecosystems. The results were unexpected: they showed that arable soils did not generally have lower genetic diversity than natural soils, but they were more susceptible to temperature fluctuations and fluctuations in the water balance.
"A nation that destroys its soil, destroys itself"
Saacha Mooney from Nottingham University began his talk with a quote from Franklin D. Roosevelt, dated to the 1930s in times of the American Dust Bowl. Mooney's research deals with the effects of zero tillage. Computer tomography of no-till soils showed that greenhouse gas emissions from agriculture could be reduced by 30%, but potentially negative effects were also identified, such as the potential entry of pesticides into deeper soil layers. There might be also impacts on yields and early adoption problems, such as cost of equipment. Mooney's conclusion: Zero tillage is not suited for everyone. 
On 20 September, the forum delegates were invited to visit the Agricultural Free Trade Zone, China's only free trade zone specialized in agriculture and food production. Within the zone, the Yangling Soil Preservation Center is located. The center was established with scientific and financial support of science institutions and the Shaanxi Provincial Construction Group. It features a large exhibition of China's 60 types of soil and a scientific soil bank with 20,000 soil samples. 
In the Free Trade Zone, the delegates could also visit a state-of-the-art vertical farming facility and a fully automated greenhouse. The field trip ended with a visit of the exhibition hall of the Shanghai Cooperation Organization (SCO) Demonstration Base for Agricultural Technology Exchange and Training. The base, which was inaugurated in 2020, has been set up to strengthen cooperation with SCO countries in modern agriculture. 
In the afternoon, the delegates had the opportunity to visit the 30th Yangling Agricultural Hi-Tech Expo.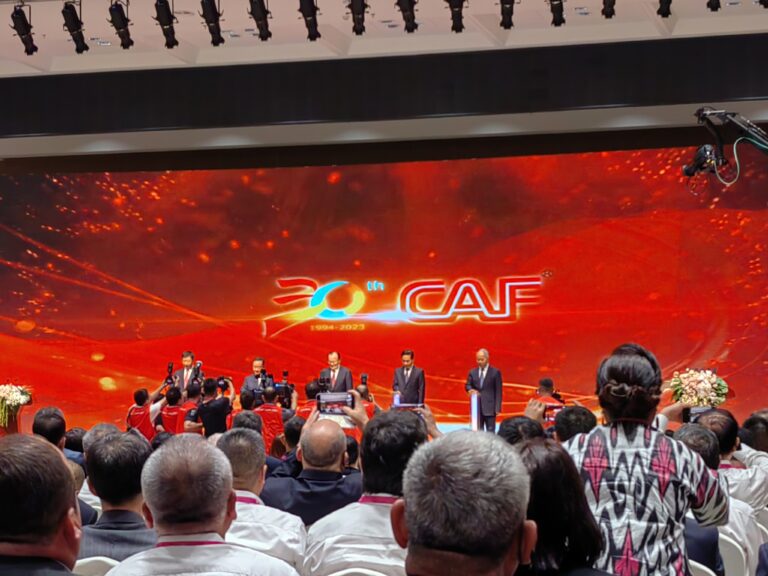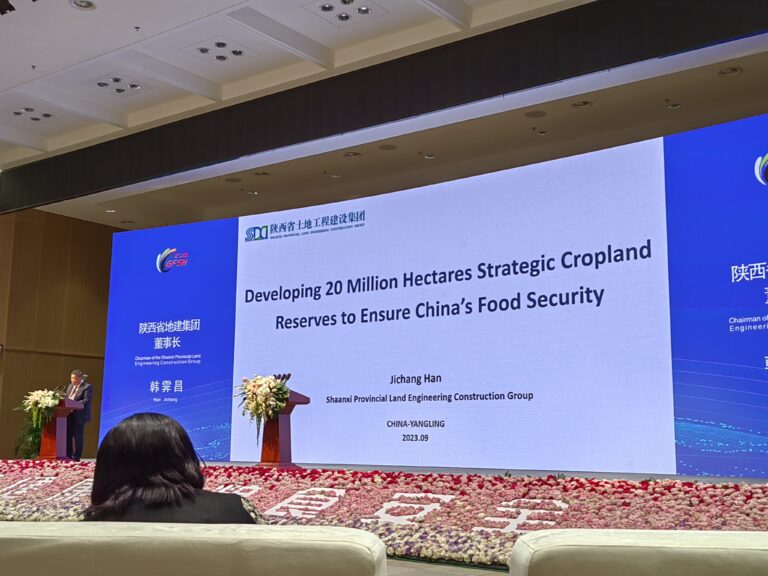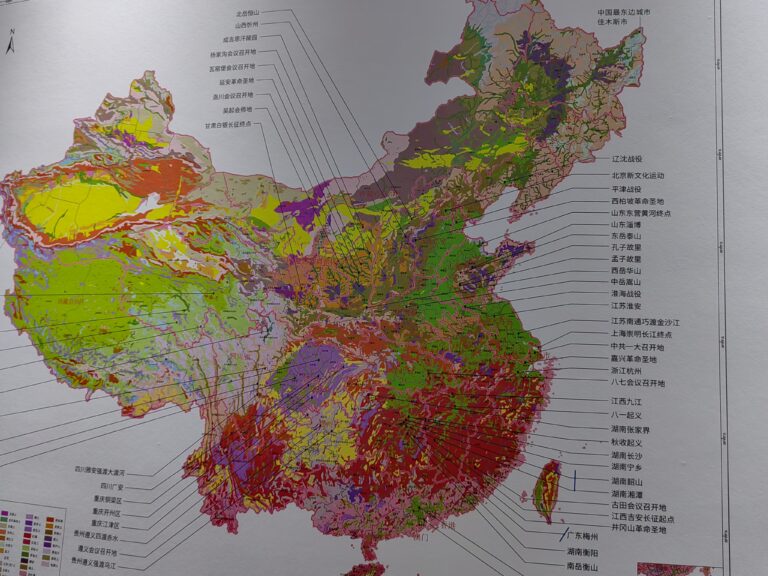 ---